When it comes to insurance you can not compromise. You deserve nothing but the very best, and we are here to provide that peace of mind and reliable protection you not only deserve, but have come to expect. 
At Gibb Agency Insurance Services we are thrilled to announce that we have earned a Silver ranking for the best insurance agency in the DFW area!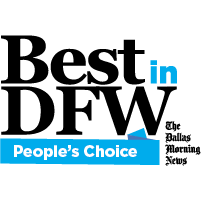 After months of nominations and voting, we made it onto the highly competitive list of the Best in DFW People's Choice in 2023. This recognition is a testament to our commitment to excellence and the trust our community has placed in us.
So, what sets us apart?
Personal Touch

– Established in 1997, we have over two decades of experience in the insurance industry. We understand that insurance is not just a business, it is personal. That is why we take the time to get to know you and your needs, stopping at nothing to match you with the coverage that you need to face any of life's unexpected circumstances. 

Comprehensive Coverage

– We offer a wide range of insurance services, including home insurance, business insurance, auto insurance, healthy insurance, retirement planning, and so much more! No matter your needs, we have you covered.

Community Involvement

– We believe in giving back to the community that has supported us. For every new client that chooses us, we donate to local nonprofits, including RainbowDays.org and AustinStreet.org in Dallas, TX! 
We pride ourselves on being your trusted insurance partner, providing you with the peace of mind that you deserve. 
At Gibb Agency Insurance Services we are committed to serving you better each day. This award is not just a recognition of our past accomplishments– it is a promise of what is to come! 
The People's Choice for Best in DFW is a testament to our ongoing commitment to excellence, and we are excited to continue this journey of growth and improvement alongside our loyal community of clients. Thank you for your trust in our team! We look forward to a brighter and more secure future together.
To learn more about our insurance offerings in the DFW area, reach out to us today!