Veronica Mata
Veronica Mata, a mother shattered by the tragic loss of her 10-year-old daughter, Tess Martin, in the Uvalde shooting, continues to fight to keep Tess's voice and memory alive. Driven by grief, Veronica Mata has become a tireless advocate, fighting passionately against gun violence. With a focus on the urgent need to ban AR-15s, she is a powerful voice for change, determined to prevent other families from enduring similar heartbreak. Through her inspiring journey, Veronica Mata's story serves as a call to action, urging us all to join the battle for a safer future.
Join their fight and support LivesRobbed.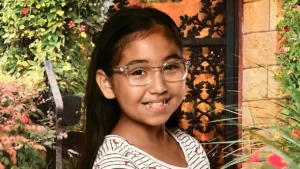 In Loving Memory of
Tess Mata
This episode will be out at 5 a.m. on 7/18/23!
Subscribe to our podcast channel here.
Visit www.gibbagencydallas.com to learn more about us.
The Susana Gibb Show & The Gibb Agency
For over 25 years the Gibb Agency has had the honor to serve our wonderful clients in Dallas and all over the great state of Texas. As an independent insurance agency rooted in the community and grounded in its growth, we take immense pride in being here to help make the good times great and the hard times easier. As we partner with our clients to help them reach their goals, we often hear amazing stories born from humble beginnings that inspire and motivate us to be even better. Stories worth sharing and celebrating. In each story, we see the opportunity to learn from the people who lived it and in doing so, challenge us to grow. The Gibb Agency is proud to support and promote all the unique and talented people that make our community of Dallas, and all of Texas, the star that shines brightest.